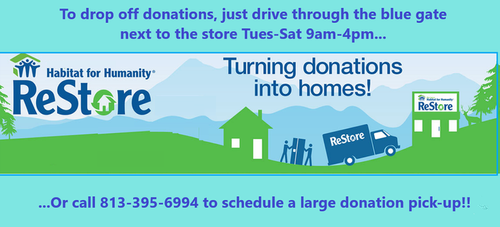 The ReStore is OPEN Tuesday - Saturday from 9am - 5pm. 
The Habitat ReStore posts sales & inventory on our Facebook Page
---
Last updated: 7/19/2021
At Habitat for Humanity of East & Central Pasco County, the safety and well being of our staff, homeowners, and supporters are a top priority. We are closely monitoring all of the breaking developments and following guidance from both the CDC and the WHO regarding COVID-19. We will continue to provide updates on the measures our affiliate is taking.
We understand the situation is evolving daily, so for additional guidance on COVID-19, please visit the Centers for Disease Control's website for their latest reports. Please continue to stay engaged with us on social media and on our website as we will provide updates on dedications, volunteer opportunities and events.
Program offices
Our offices are open by appointement only. If your request requires an in person visit please you call or email for an appointment. We do not anticipate reopening to walk-ins before 2022. We continue to move our mission forward. Habitat staff are available by email and phone. Please visit the front porch of our office for homebuyer applications, mailing envelopes, and other literature as needed. There is also a drop box for your convenience. We are taking appointments on the covered back patio area as well. 
Construction sites
Our Construction sites require advanced registration that is limited. Please contact us to inquire about volunteer openings, 352-567-1444, volunteer@habitatpasco.org 
When you arrive on site, please be prepared to have your temperature taken, face covering are required, please bring your own personal drinking water, you may supply you own hand tools (not required), and please practice social distancing practices. We have wash stations available, cleaning supplies, tools, and materials needed for the project. 
Restore in Zephyrhills is OPEN
Our Zephyrhills ReStore is OPEN Tuesday - Saturday 9am-5pm. We will are limiting shoppers inside the store, following guidelines on social distancing, cleaning, and mask wearing. For those who prefer alternatives - we continue to offer online shopping, contactless payment, and curbside pickup as needed. We are scheduling donation pickups. We will pick up items from a garage or driveway and from a safe social distance. Our donation drive thru is also open, please stay in your vehicle, open your truck, and our team will unload for you. Please call the store for additional information on any of these services. Thank you for supporting your local Habitat ReStore.
Homeownership program & home dedications
At this time, our homeownership program continues to partner with local families and individuals to help make their homeownership dreams a reality. We are accepting applications, scheduling closings, and screening new applicants.
To our Homeowners and Homeowner Candidates: Habitat Homeowners and Homeowner Candidates with questions regarding mortgages or the homeownership program can reach us at (352) 567-1444. 
All large (15 or more people) volunteer groups have been cancelled through 2021. At that time, we will re-evaluate the situation and determine if the time is appropriate to reopen the sites and events to full capacity.
Many of our hardworking homeowner candidates perform jobs right at the forefront of this crisis, including health care workers, teachers, service sector employees—those to whom if they missed a paycheck could mean catastrophe. If you made plans to volunteer or support Habitat for Humanity in the next few weeks or months, please consider supporting our mission through an online donation today!
For any volunteer related questions, please contact Jere Ferguson, Director of Volunteer Programs at jferguson@habitatpasco.org or 352-567-1444
Other Resources:
Pasco County COVID Services - https://www.pascohomelesscoalition.org/pascocountyservices/
Pasco County Health Department - http://www.floridahealth.gov/index.html
CDC - https://www.cdc.gov/coronavirus/2019-ncov/index.html
National VaccineFinder - https://vaccinefinder.org/
Florida DOH Vaccines - https://floridahealthcovid19.gov/vaccines/vaccine-locator/
Federal Vaccine Sites - https://www.patientportalfl.com/