Habitat Deconstruction Team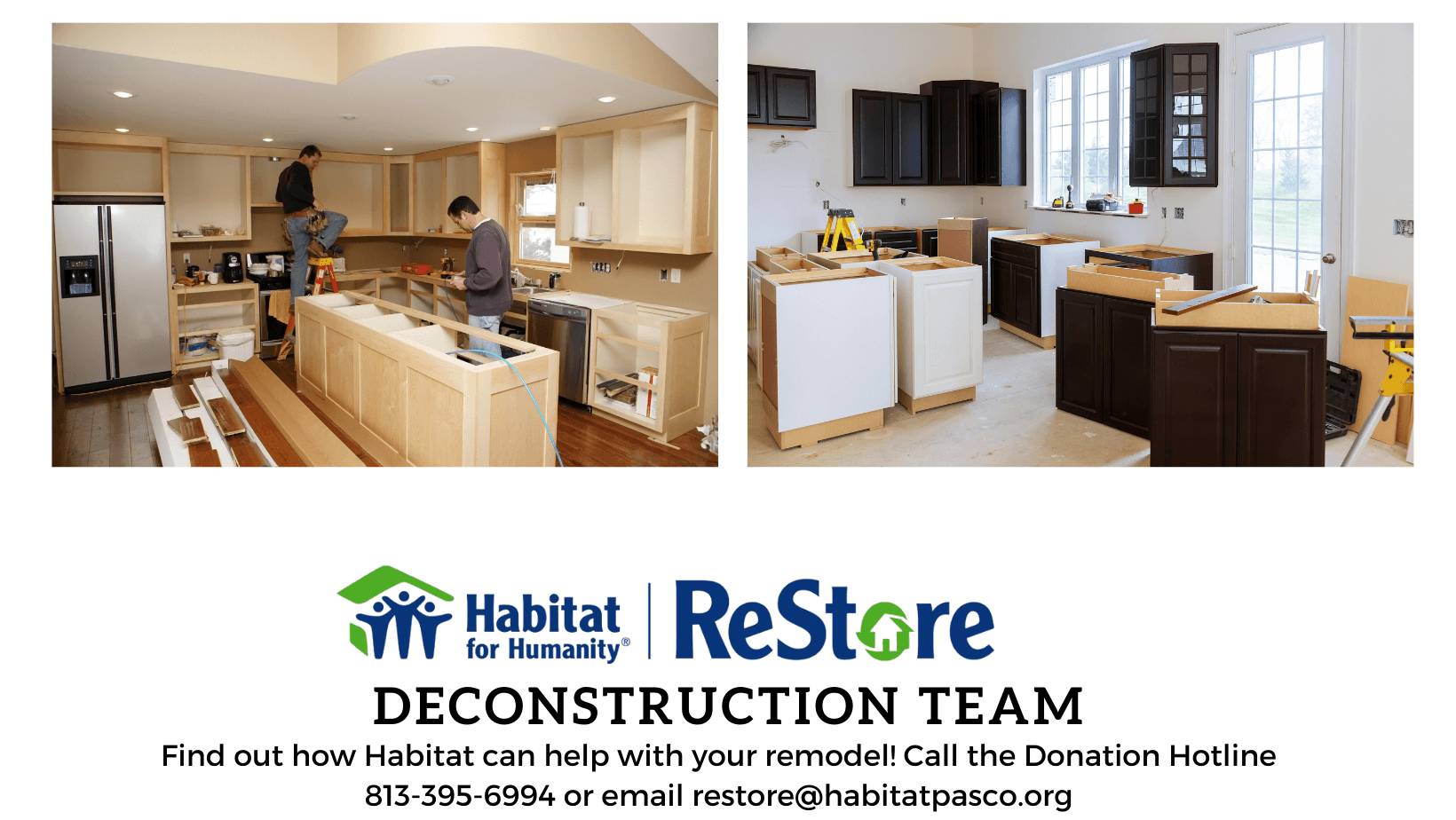 We are taking precautions so our staff will be wearing masks and practicing social distancing when visiting your home.
Our Deconstruction Team will be using an abundance of safety precautions and preventive measures while doing deconstruction in your home. Call and schedule a walk-through today! To get started, please contact us at restore@habitatpasco.org
---
Habitat for Humanity ReStore's Deconstruction Program provides non-structural deconstruction services. Our team prepares you for the next phase of your remodeling project while you help your community. The Deconstruction Team salvages useable building materials from residential homes. The donated materials are sold in the Zephyrhills ReStore to raise funds for Habitat for Humanity of East and Central Pasco County to build affordable housing in your community.
How Does it Work?
We carefully remove your cabinets, sinks, appliances, doors and other items from the home.
We leave your site clean and ready for the next phase.
You receive a tax deduction receipt for the items you donate.
We sell your donations in our Zephyrhills ReStore to raise funds for Habitat for Humanity of East and Central Pasco County.
You help Habitat build affordable homes, and you keep usable materials out of the landfill.
Simple Efficient Service
Call and schedule a walk through
We will identify and inventory those items we can recover through deconstruction
Our professional, courteous crews complete the job and take donated items to our stores
Consult our Deconstruction Frequently Asked Questions (FAQ) or call the Donation Hotline 813-395-6994 or email: restore@habitatpasco.org
Volunteer with Deconstruction
We are need volunteers to help with deconstruction. For more information call Gloria at 518-210-1531 or email restore@habitatpasco.org 
Deconstruction FAQ
WHAT IS A DECONSTRUCTION?
Deconstruction is the hand demolition of buildings in the reverse order of their construction, materials removed carefully for reuse and recycling. This technique reduces the disposal of materials into the landfill, and provides materials for the Zephyrhills ReStore to sell. Deconstruction diverts demolition waste from the landfill and reuses these valuable building materials. Developers and construction companies typically look at buildings located on property slated for development as a costly, unavoidable annoyance. Up until now, Developers and construction companies had little choice when it comes to removing these buildings. Habitat ReStore Deconstruction provides a smart alternative and option for maintaining our resources: Your donations may be tax deductible; better for the environment; proceeds help Habitat E/C Pasco build more affordable homes.
WHAT IS THE BENEFIT OF A DECONSTRUCTION?
Items donated to Habitat for Humanity of East and Central Pasco County's ReStore may be deductible for income tax purposes at their current market value. Additionally, by having HFHECP deconstruct items from your home, you are saving money on professional demolition, dumpster costs and diverting waste from landfills.
HOW DO I DETERMINE "FAIR MARKET VALUE"?
To help you in determining the value of donated property, see IRS publication 561 
HOW DOES THE DECONSTRUCTION PROCESS WORK?
The property owner contacts the Zephyrhills Habitat for Humanity ReStore to offer their property for deconstruction.
The first consideration of the property is decided over the telephone and /or with emails.
Once it is established that there is product or material appropriate for salvage by the ReStore, a time is set for the Deconstruction Supervisor to meet with the property owner, and conduct a walk-through of the site.
After it is determined that the project is viable, an agreement is made between the ReStore and property owner with regard to access to the property, access of electricity and bathrooms, materials to be salvaged and a timeline.
The Deconstruction Supervisor then schedules tools, trucks and a volunteer crew to begin the deconstruction of the property.
WHAT DOES A ZEPHYRHILLS HABITAT RESTORE TYPICALLY DECONSTRUCT?
Due to the high demand of deconstructions and the limited space that we have in our ReStore, we currently are accepting the following items:
All kitchen appliances < 10 years old (stove, oven, refrigerator, freezer, hood vents, etc)
All kitchen cabinets that are in good condition and < 10 years old. We do not accept the following: composite board, water or mold damaged cabinets.
The following bathroom items: newer toilets, sinks, vanities, all bathroom accessories · Hot water heaters < 5 years old · Lighting fixtures except recessed lighting and ceiling fans
Copper piping
Exterior or solid wood doors in excellent condition. We do not accept French doors, sliding doors or bi-fold doors
Door knobs and/or other household accessories (curtain rods, mirrors, shelving, etc)
Fireplace mantels and grates