The Habitat ReStore is an independently owned reuse store operated by Habitat East & Central Pasco County that accepts donations and sells home improvement items to the public at a fraction of the retail price.
Proceeds are used to help build strength, stability, self-reliance and shelter right here in Pasco County — a good deal for you, Pasco County and the environment.

Gift cards can only be used at the Habitat for Humanity of East and Central Pasco County ReStore at 4700 Allen Road Zephyrhills, FL.
Shop the ReStore
Visit us in person
Open Tuesday - Saturday from 9:00 am - 5:00 pm (closed Sunday & Monday).
View inventory and sales
GIFT CARDS
Purchase online or at the ReStore. Gift cards can only be used at the Habitat for Humanity of East and Central Pasco County ReStore at 4700 Allen Road Zephyrhills, FL.
For additional information please contact us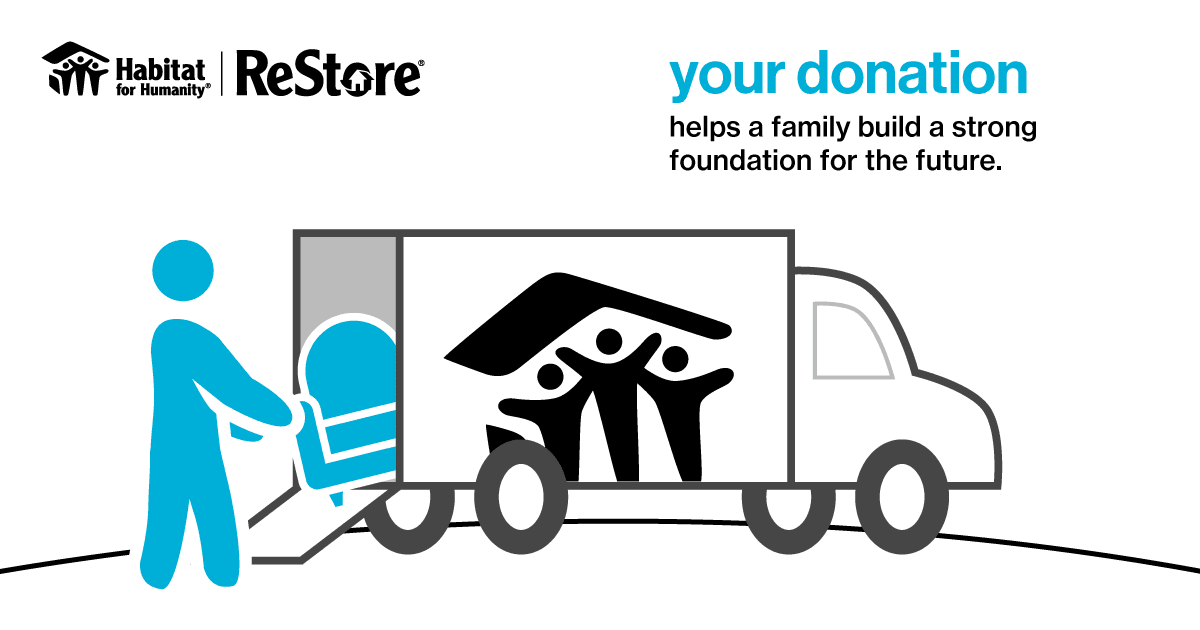 Donate goods
Donate to Habitat ReStore to clear clutter and make a difference.
Basic Donation Guidelines
All donations are accepted at staff discretion. Here are our considerations
Residential

Must be intended for use in or have application in residential construction, improvement or maintenance. Nothing labeled or specifically configured for industrial, professional or commercial use only.

Structural

Must be structurally sound to perform its intended use. Nothing broken, missing, worn-out or otherwise "falling apart."

Functional

Must be in working condition. No disabling damage, non-functioning components or in any way inoperable.

Cosmetic

Must have an acceptable appearance.
How to Donate
Don't hesitate to contact us ahead of time if you are unsure if your item meets our guidelines or if you have something that is NOT on our list that you think would be of value to our customers.
Questions? Contact Jenny restore@habitatpasco.org or 813-395-6994
Drop off

Drop off donations up to an hour before closing.

Free pickup

Free pickup service for larger approved donations. We can usually pickup these larger donations within a week. We are unable to haul away trash, and some donations may be declined because of safety concerns, facility limitations or marketability. Schedule by calling 813-395-6994.

Deconstruction

Demolishing an existing home? Avoid additional trash hauling and disposal fees while receiving a tax deduction. Learn more. 
Volunteer with us
Help us assist customers in our store located in Zephyrhills.
VOLUNTEER ACTIVITIES INCLUDE:
Helping customers unload their vehicles when they make donations of home good items
Stocking and organizing shelf items
Cleaning
Minor home good item repairs such as attaching cabinet doors, etc.
REQUIREMENTS
Be at least 14 years of age
Be capable of heavy lifting but will not be asked to lift more that they can handle
Wear proper clothing: No tank tops or clothing with inappropriate themes or language permitted
Must wear closed-toed/heeled shoes

If you have any suggestions or comments about the restore, please email our restore management at restore@habitatpasco.org or call us at our program office 352-567-1444. Thank you.