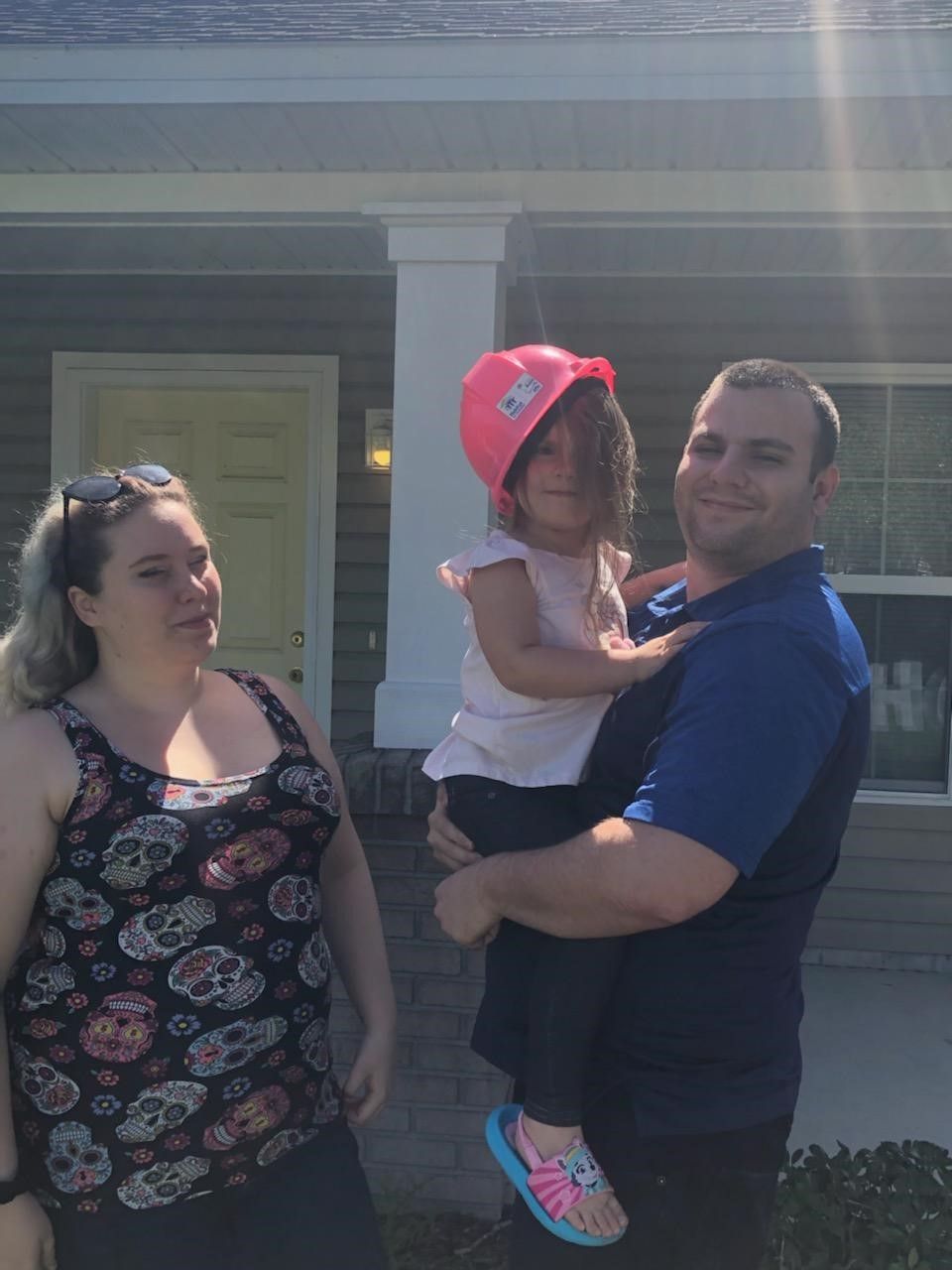 Habitat for Humanity of East and Central Pasco County just celebrated their second closing during these uncertain times of COVID-19 on May 15, 2020. While office staff have been working from home, Construction Supervisor Jose Garcia has been continuing to oversee construction on affordable Habitat homes in Dade City. One of those homes was destined to become the new affordable home for a Pasco County family of three.
Home buyer Quinton Quarles closed on his home differently than Habitat homeowners have in the past. Ordinarily, Habitat Staff are at the closing to be a part of this life changing event. Larkin and Larkin Title, to be as safe as possible, has limited access to the closing to only those necessary to sign the paperwork.
In a pre-virus world, Quinton, his girlfriend Taylor Snyder and their daughter Maya, would have received the keys to their new home at a Dedication Ceremony. Instead, they began to move into their new home, they were greeted with a Welcome Home yard signs from Sign Dreamers of Wesley Chapel and housewarming gifts sitting on the front porch.
"I wasn't sure if we were going to close," Quarles said. "But I knew this was the right move for my family and we were looking forward to making this house a home. I just tried to be patient."
Habitat loves to celebrate a closing and usually goes all out for a Dedication Ceremony, bringing together homebuyers, sponsors, volunteers, donors, neighbors and staff together to celebrate the final product of all their hard work. But the Stay at Home order changed all that beginning on March 16, 2020.
Habitat for Humanity International cancelled all Collegiate Challenge and Care a Vanner trips right away. Both groups are the main source of volunteer labor, along with financial donations that support the building for the affiliate.
Habitat was right in the middle of the spring season where seven schools were already scheduled for volunteering trips during their Spring Breaks. Several Care a Vanner groups were currently living and volunteering on the build sites, with more scheduled throughout the summer. These trips are currently cancelled through August.
When all the cancellations began to happen, Crystal Lazar, Habitat CEO, realized that operations were going to change drastically for the Pasco County affiliate. She and her staff began to brainstorm how Habitat could continue to serve families in need of affordable housing, even with the halt of income and volunteers.
"We knew we must continue building," said Lazar. "but with new safety precautions that focused on keeping our staff and volunteers safe from the virus. This meant hiring local sub-contractors and equipping the site with hand-washing stations and masks. We cut back on the number of volunteers allowed on the job site, using only core long-time volunteers. All new volunteer activity was shut down until we could safely have them on site."
Building continued at this different pace, with new decisions needing to be made every day. But all along, homes were being built and groundwork continued on The Cove, a new neighborhood located at Main Avenue and 17th St in Dade City.
Four weeks into the quarantine, Lazar and her staff were elated to realize that they were going to have a home close on April 20, 2020. They knew that the Dedication would not be what they were used to, but they were determined to make move-in day special for Raeven Harris and her three children.
"We wanted to be sure Raeven knew how proud we were of her," said Lazar. "She had worked so hard on her sweat equity and we knew that we could make this day special, while still keeping everyone safe. Our Family Services Director, Jere Ferguson, decorated her porch and Sign Dreamers of Wesley Chapel placed beautiful Welcome Home signs in the front yard."
"Moving into our home during the stay at home order gave us an opportunity to have a safe place for my children to learn and play during this time." said Harris. "My children can now do zoom calls in their own rooms without being interrupted, as well as have their own learning spaces to focus on their schoolwork. Having our new yard has made being active during this stay at home order so much easier and safer too! We have enjoyed every minute making memories during this trying time in a place that is finally ours."
This first closing showed just how creative, flexible, and resilient our community can be. The funding from Pasco County Community Development through HOME and SHIP, and the sponsorship of the Quarles home by Jarrett Ford Dade City and the Harris home by Wesley Chapel Toyota and Honda made these homes possible. But when those homes were started, no one had any idea what a new world Habitat would be working in when it came time for a Dedication.
Construction is continuing on two more homes, with a new Partner Family choosing a building lot this week. While life looks vastly different due to COVID-19, Habitat knows that now, more than ever, a safe, stable and affordable home is what every family deserves. Habitat continues to follow their core mission: a place where everyone has a decent place to live.